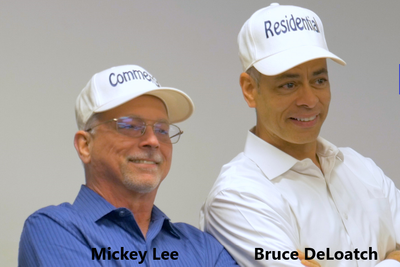 What makes OUR IICRC CDS-Commercial Drying Specialist the BEST ONE in the industry? Our Team!Mickey Lee has over 40 years
of commercial experience
, as a general contractor, water damage restorer and trainer. He has exclusively worked in commercial buildings of all types, including multi-tenant high-rises, retail, government, healthcare, convention centers, industrial plants and schools. During much of this time he regularly designed and conducted training courses throughout North America, Europe and Australia. Additionally, he has served on various industry committees for IICRC and RIA, and notably
chaired the IICRC S-500 Standard
as well as the CDS course.
Bruce & Joanna DeLoatch – Bruce has over 30 years of experience
in building trades, commercial electrical systems and health/safety issues. He and Joanna built a successful carpet cleaning and water-damage restoration business. For the past 18 years they have owned
one of the best training, consulting and executive coaching businesses
i
n our industry. Bruce is a Certified Human Behavior Consultant and regularly speaks at various industry-related conferences.
Our Commitment!
We all know of IICRC certification classes that simply teach the material only to the level of the exam and not much beyond. In 2010, when the IICRC-Commercial Drying Specialist was first approved, we committed ourselves to go beyond that concept.
We made the commitment to prepare our students to do the complex work of inspecting, planning and managing the restoration of large, water-damaged commercial buildings. We want you to be able to do the work… not just take the exam!
Join us for the most interactive & lively CDS out there!
CHECK OUT OUR 'CDS SUPERCHARGED' VIDEO
REGISTER NOW OR GET MORE INFO